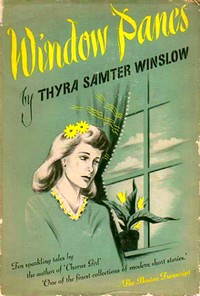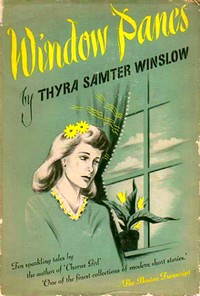 Thyra Samter Winslow's first work: Window Panes (Picture Frames)
Thyra Samter Winslow published a bevy, over 50, works in Smart Set before 1922, the cut-off date for public domain works (although that is not always a hard-and-fast rule).
Many of her books of short stories were made up of stories that had been previously published.
Window Panes, later republished as Picture Frames, was Samter's first book and it collected many of her short stories from The Smart Set.
According to WorldCat.org, Picture Frames/Window Panes was composed of:
Little Emma (1915)
Grandma
Mamie Carpenter (1920)
A cycle of Manhattan (1919)
Amy's story
City folks (1919)
Indian summer
A love affair
Birthday
Corinna and her man (1920)
The end of Anna (1917)
NeglectedBooks.com is quite fond of Samter Winslow and devoted an entire article to Window Panes.
Picture Frames received an enthusiastic critical welcome when it was published. Edna Ferber, one of the most successful novelists of the time, led the applause: "These short stories are character studies, penetrating, keen, pitiless. No one in this country is doing this sort of thing as well as Thyra Winslow." She did, however, regret Winslow's lean style, referring to it as, "Hard, tough, common, little Anglo-Saxon words about hard, tough, common little American people." Burton Rascoe, reviewing for the New York Tribune, called the stories "hard, metallic"–but also described Winslow's work as "distinctly original, the method of presentation new, the point of view fresh, challenging and distinctive."
Little Emma is in our collection of Samter Winslow's work, The Wisest Girl in Town and Other Stories while The End of Anna is in our collection, The Pier Glass and Other Stories.